Infrared Flat Roofs Moisture Inspection (Infrared Moisture Inspections), Insulated Roofs Thermography Inspector (Thermography Inspectors) and Thermal Imaging Inspector serving New York
Schedule a New York (NY) RI Infrared Roof Moisture Survey Today!
Infrared Thermal Imaging of Flat Insulated Roofs
Although the trend of utilizing rooftop space is experiencing resurgence in New York, Flat roofing is not new to the area. New York Building Owners, Property Management, Roofing Consultants are discovering that flat roofing, overall, hard to find problems.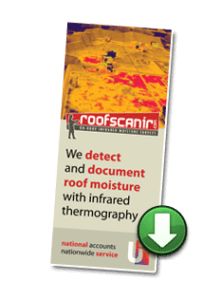 Flat or low sloped insulated roofs do present their own challenges so it is vital that building owners work with an experienced professional with a track record of installing, repairing, and maintaining flat insulated roofs as well with the different types of roofing materials and installation applications.
Even experienced roofers and consultants find insulating a flat roof presents a challenge. There are a number of different methods & material for insulating roofs, but with a flat roof you have to be concerned about water seepage. The chances of water getting in with a pitched roof are less because water is designed to shed off the pitched roof and does not pool up.
However, with a flat roof, this becomes a major worry. There are different types of roofing insulation to choose from including ISO, Expanded Polystyrene, Poly Isocyanurate, Perlite, Styrofoam, Dens Deck and other foam insulation. Which type of insulation is right for your flat insulated roof? The answer depends on many factors such as the state of the roof, expert, professional opinion and your financial budget.
Different Roof Types: EPDM, IB PVC, TPO, ROLLED, Built-Up Roof (BUR), Modified Bitumen All except the flat roof type are designed with one or more grades built into them, allowing excess water to run off. Flat roofs, in contrast, can cause water to pool up if not properly designed. This has the potential not only of leaking into the conditioned area but of ruining the insulation that maintains the building at a comfortable temperature. This leads us to the importance of proper ventilation in flat roofs. Also the building with flat roofing systems go thru due point and expansion and contraction of the structure itself. This causes the materials to stretch and damage the welded or torched down seams of the roofing systems.
Some of the smooth-surfaced roofs, both single-ply and reflective roof coating such as metallic (Aluminum), silicone base and elastomeric coatings,can present significant challenges during an infrared inspection due to reflectivity of the roof membrane or coating. Should reflectance be sufficiently high, areas of latent moisture may be undetectable to a long wave thermal imager they can significantly understate the size of moisture-damaged areas or miss them entirely. So when performing infrared inspections of smooth-surfaced roofs,or reflective coating a short or Mid wave thermal imager can significantly outperform a long wave imager. We use a high end imager for NY Infrared roof Moisture Survey Inspections.
Schedule a New York (NY) RI Infrared Roof Moisture Survey Today!
Ventilation is essential to allow accumulated moisture to escape. Ventilation also allows hot air to escape during the summer months. If moisture cannot escape, it will gather around joists, Metal, Concrete decks and eventually weakens your roof framing & reducing insulation R Value. Flat roofs don't have eaves, so there are no holes on the underside to allow air flow, usually known as 'soffits'. With a flat roof, the ventilation has to come from side vents installed in the exterior walls or roof vents. Roof vents on flat roofs need to be adequately sealed and positioned so water cannot finds it way in.
A flat roof has maintenance requirements that differ from a regular sloped roof. A flat roof should be inspected at least twice a year for signs that any of the roofing paper or vinyl membrane is loosening or buckling. Pay close attention to the seams and flashing as this is where most leaks will take place. A NY flat or low slope roofs needs to be evaluated by for (PM) Preventative maintenance at least one a year. In areas of very heavy snow fall and ice, like New York, it is prudent to go remove off the excess to prevent extra weight on the roof, which can cause collapse. As well as due diligence real estate transactions.
The Inspectors/Consultants have trained in the NDT in the infrared/Thermal testing method in accordance with American Society for Nondestructive testing document, SNT-TC-1A.
We Service New York
Infrared Roof Scan ( IR Roof Scan) Infrared Roof Moisture Inspection Survey Services by a Certified Infrared Thermographer 
CERTIFIED INFRARED ROOF INSPECTIONS MANHATTAN- NYC WITH ZIP CODES
THE HOMETECH NJ INSPECTION SERVICES,LLC DIRECTORY, SERVING THESE NEW YORK CITIES: IN LOWER MANHATTAN–LOWER EAST SIDE 10001 10002 10003 10004 10005 10006 10007 10008 10009 10010 10011 10012 LITTLE ITALY 10013 10014 10015 10016 10017 10018 MID TOWN 10019 10020 UPPER EAST SIDE 10021 10022 UPPER WEST SIDE 10023 10024 10025 10026 10027 10028 10029 10030 10031 10032 10033 10034 10035 MID TOWN WEST 10036 10037 10038 10039 10040 10041 10045 10055 10081 10087 10101 ROOF SCAN IR 10103 10104 10105 10106 10107 10108 10109 10110 10111 10112 10113 10114 10115 10116 10117 10118 10119 10120 10121 10122 10123 10128 10150 10151 10152 10153 10154 10155 10156 10158 10159 10162 10165 10166 10167 10168 10169 10170 10171 10172 10173 10174 10175 10176 10177 10178 10185 10199 NY INFRARED 10212 10249 10256 10259 10261 10268 10270 10271 10276 10278 10279 10281 10282 10286 ROOF INSPECTION WILL BE CONDUCTED BY A CERTIFIED INFRARED THERMAL IMAGING INSPECTOR TRAMEX RWS KIT MRH lll FLUKE INFRAMETRICS INFRARED ROOF MOISTURE SURVEY
WE ALSO COVER BROOKLYN BRONX QUEEENS STATIN ISLAND WESTCHESTER LONG ISLAND
INFRASPECTION Standard for Infrared Inspection of Insulated Roofs
ASTM C1153 – 10 Standard Practices for Location of Wet Insulation in Roofing Systems Using Infrared Imaging