Commercial Building Infrared Moisture Roofs Inspections in (NY) New York
BUILINGTECH INSPECTION SERVICES LLC serves New York City (NYC) Infrared Roof Moisture Inspection (Infrared Inspections), Thermography Inspector (Thermography Inspectors) and Thermal Imaging Inspector serving Manhattan County,

New York

(NY)
Schedule a New York (NY) IR Infrared Flat Roof Moisture Inspection Today!
The New York real estate market is complex. Real estate in the Empire State is heavily influenced by regional and even local trends. Local real estate markets in NYC have opportunities for both Commercial Buyers looking for a commercial building. Making sure these properties are properly maintained can be a challenge. One aspect of the buying process that can easily be made less stressful is making sure there is no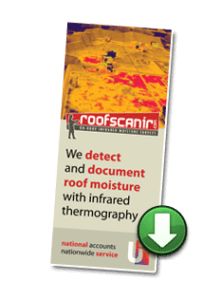 damage to the property. If you own a commercial building in New York, reduce your risk and have the condition of the roof evaluated by a professional certified infrared inspector. As well as due diligence real estate transactions. Your roof has to withstand all the elements of NY weather, which can be extreme and unpredictable within a short period of time, much less over the different seasons. Your New York City roof will face heavy winds, rain, hail, snow, excessive sunlight, heat, and perhaps tornadoes, and other natural disasters. Your NYC roof is the only barrier you have between you and the elements so it is very important that you perform routine maintenance on your roof. Maintaining your roof is a large job, and without knowing exactly where a potential problem may exist or where a fragile area could eventually become a leaking roof, it is hard to know what type of maintenance work is needed. By utilizing infrared thermographs professionals can easily and cost-effectively discover roofing failures and provide a detailed analysis of your roof's general condition. Additionally, infrared roof moisture inspections can be used for commercial structures such as concrete block wall infrared inspections & moisture detection or performance of windows and doors.
Schedule a New York (NY) IR Infrared Flat Roof Moisture Inspection Today!
Structural elements and systems such as the roof from time to time may require professional commercial Infrared roofing Moisture survey services. There are some problems that properties owners can fix own their own following DIY advice or consulting with the staff at the local big box hardware store. However, there are some roofing issues that definitely require the expertise of qualified professionals. For example, infrared Thermal imaging, a non-destructive, non-contact tool that can find hidden roof leaks without damaging the interior or exterior surfaces of your condominium, or commercial building.
Infrared imagers can quickly identify thermal patterns that indicate a potential moisture problem area or areas in your roof. Infrared thermography testing is non-destructive technology so it is particularly well suited to identify thermal anomalies created by moisture trapped under your roofing membrane. Infrared thermography test as a proactive tool for predictive maintenance or maintenance. Most (not all) leaks occur where the water proofing is sealed or where there is a penetration of your roof. Since most style of roof systems absorb some amount of water, it's more difficult to locate the exact area of water contamination in the roof or insulation because the water may not leak into the building until the building has absorbed all the water it can hold. This makes it difficult to locate the true origin of the leak when using the naked eye. Once you isolate the problem area using Infrared thermal imaging, the smallest possible surface areas can be removed in order to make the necessary repairs to your roof. This will save you money as roofing materials are very expensive to replace and the repairs can easily cost you $20.00 per square foot, more for commercial roofing systems.
The Inspectors/Consultants have trained in the NDT in the infrared/Thermal testing method in accordance with American Society for Non-destructive testing document, SNT-TC-1A.
INFRASPECTION Standard for Infrared Inspection of Insulated Roofs
ASTM C1153 – 10 Standard Practices for Location of Wet Insulation in Roofing Systems Using Infrared Imaging