Schedule a New Jersey (NJ) IR/Infrared Inspection Today!
The New Jersey real estate market is complex. Real estate in the Garden State is heavily influenced by regional and even local trends. Local real estate markets in NJ have opportunities for both buyers and sellers looking for a home, condominium, or commercial building. Making sure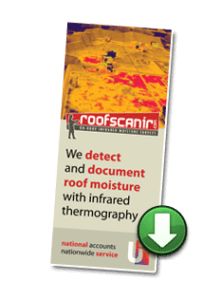 these properties are properly maintained Although the trend of utilizing rooftop space is experiencing a resurgence in New Jersey, Flat roofing is not new to the area. In 1979, when a local developer had black pines flown by helicopter to the top of the Caesar's Boardwalk Regency Hotel Casino in Atlantic City to satisfy a local "green space" requirement.
Bergen, Essex, Hudson, Passaic, Sussex, Union, and Morris County homeowners are discovering that flat in roofing, overall, hard to find problems.
Flat or low sloped insulated roofs do present their own challenges so it is vital that home & building owners work with an experienced professional with a track record of installing, repairing, and maintaining flat insulated roofs as well with the different types of roofing materials and installation applications. As well as due diligence real estate transactions.
Even experienced roofers and home builders find insulating a flat roof presents a challenge. There are a number of different methods for insulating roofs, but with a flat roof you have to be concerned about water seepage. The chances of water getting in with a pitched roof are less because water is designed to run off the pitched roof and does not pool up.
However, with a flat roof, this becomes a major worry. There are different types of roofing insulation to choose from including ISO panels, Expanded Polystyrene, Polyisocyanurate foam insulation. Which type of insulation is right for your flat insulated roof? The answer depends on many factors such as the state of the roof, expert, professional opinion and your financial budget.
Different Roof Types: EPDM ,IB PVC, TPO, ROLLED, Built-Up Roof (BUR), Modified Bitumen All except the flat roof type are designed with one or more grades built into them, allowing excess water to run off. Flat roofs, in contrast, can cause water to pool up if not properly designed. This has the potential not only of leaking into the conditioned area but of ruining the insulation that maintains the room at a comfortable temperature. This leads us to the importance of proper ventilation in flat roofs. Also the building & homes with flat roofing systems go thru due point and expansion and contraction of the structure its self. This causes the materials to stretch and damage the welded or torched down seams of the roofing systems.
Some of the smooth-surfaced roofs, both single-ply and reflective roof coating such as metallic (Aluminum), silicone base and elastomeric coatings,can present significant challenges during an infrared inspection due to reflectivity of the roof membrane or coating. Should reflectance be sufficiently high, areas of latent moisture may be undetectable to a long wave thermal imager they can significantly understate the size of moisture-damaged areas or miss them entirely. So when performing infrared inspections of smooth-surfaced roofs,or reflective coating a short or Mid wave thermal imager can significantly outperform a long wave imager. We use a high end imager for NJ Infrared roof Moisture Survey Inspections.
Schedule a New Jersey (NJ) IR/Infrared Inspection Today!
Proper Ventilation in Flat Roofs with attics.
Ventilation is essential to allow accumulated moisture to escape. Ventilation also allows hot air to escape during the summer months. If moisture cannot escape, it will gather around joists and eventually weaken your roof framing & reducing insulation R Value. Flat roofs don't have eaves, so there are no holes on the underside to allow air flow, usually known as 'soffits'. With a flat roof, the ventilation has to come from side vents installed in the exterior walls or roof vents. Roof vents on flat roofs need to be adequately sealed and positioned so water cannot seep in.
A flat roof has maintenance requirements that differ from a regular sloped roof. A flat roof should be inspected at least twice a year for signs that any of the roofing paper or vinyl membrane is loosening or buckling. Pay close attention to the seams and flashing as this is where most leaks will take place. A NJ flat or low slope roofs needs to be evaluated by for (PM) Preventative maintenance at least one a year. In areas of very heavy snow fall and ice, like New Jersey, it is prudent to go remove off the excess to prevent extra weight on the roof, which can cause collapse. Press Release of a 100,00 Sq ft Infrared Roof Inspection
The Inspectors/Consultants have trained in the NDT in the infrared/Thermal testing method in accordance with American Society for Non destructive testing document, SNT-TC-1A.
Counties Served in (NJ) New Jersey
New Jersey Infrared Scan (NJ Infrared Scans), Certified Thermography Inspector (Thermography Inspectors NJ) and Thermal ImagingInspector serving
Bergen-Essex-Hudson-Passaic -Union – Sussex County, New Jersey (NJ)

BERGEN COUNTY– IR-INFRARED-INSPECTOR NJ RADIANT HEAT LEAK DETECTION, THE HOMETECH NJ INSPECTION SERVICES,LLC DIRECTORY, SERVING THESE NEW JERSEY CITIES: IN LOWER BERGEN COUNTY NEW JERSEY – ALLENDALE 07401ALPINE 07620 BERGENFIELD 07621 BOGOTA 07603 CARLSTADT 07072 CLIFFSIDE PARK 07010 CLOSTER 07624 CRESSKILL 07626 DEMAREST 07627 DUMONT 07628 – EAST RUTHERFORD 07073 THERMOGRAPHY EDGEWATER 07020 ELMWOOD PARK 07407 EMERSON 07630 ENGLEWOOD 07631 ENGLEWOOD CLIFFS 07632 FAIRLAWN 07410 FAIRVIEW 07022 FORT LEE 07024 FRANKLIN LAKES 07417 GARFIELD 07026 GLEN ROCK 07452 HACKENSACK HARRINGTON PARK 07640 HASBROUCK HEIGHTS 07604 – HAWORTH 07506 HILLSDALE 07642 HOHOKUS 07423 LEONIA 07605 LITTLE FERRY 07643 LODI 07644 LYNDHURST 07071 CONDOMINIUM MAHWAH 07430 07495 07498 MAYWOOD 07607 MIDLAND PARK 07432 MONTVALE 07645 MOONACHIE 07074 NEW MELFORD 07646 NORTH ARLINGTON 07031 NORTHVALE 07647 NORWOOD 07648 OAKLAND 07436 OLD TAPPAN 07675 ORADELL 07649 PALLISADES PARK 07650 PARAMUS 07652 07653 PARK RIGDE 07656 RAMSEY 07446 RIDGEFIELD 07657 RIDGEFIELD PARK 07660 RIDGEWOOD 07450 07451 RIVER EDGE 07661 RIVER VALE 07675 ROCHELLE PARK 07662 ROCKLEIGH 07647 RUTHERFORD 07070 SADDLE BROOK 07663 SADDLE RIVER 07458 SOUTH HACKENSACK 07606 TEANECK 07666 TENAFLY 07670 TETERBORO 07608 UPPER SADDLE RIVER 07458 WALDWICK 07463 WALLINGTON 07057 WASHINGTON TOWNSHIP 07676 WATER LOSS LEAK WESTWOOD 07675 07677 WOODCLIFF LAKE 07675 07677 WOOD RIDGE 07075 WYCKOFF 07481 EVERY HOME INSPECTION WILL BE CONDUCTED BY A CERTIFIED NJ THERMAL IMAGING INSPECTOR NEW JERSEY. INFRARED ROOF INSPECTIONS

IR- THERMOGRAPHER INSPECTOR NJ- ESSEX COUNTY WITH ZIP CODES IN ESSEX COUNTY NEW JERSEY BELLEVILLE 07109 BLOOMFIELD 07003 BROOKDALE 07003 CALDWELL 07006 07007 CEDAR GROVE 07009 EAST ORANGE -7017 07018 07019ESSEX FELLS 07021 FAIRFIELD 07004 GLEN RIDGE 07028 IRVINGTON 07111 LEAK DETECTION LIVINGSTON 07039 NJ RADON TESTS MAPLEWOOD 07040 MILLBURN 07041 MONTCLAIR 07042 NEWARK 07100 07101 07102 07103 07104 07015 07106 07107 0710807112 07114 07175 07182 07184 07188 07189 07191 NEWARK HOME INSPECTION 07192 07193 07194 07195 07196 07197 07198 07199 NORTH CALDWELL 07006 NUTLEY 07110 ORANGE 07050 ROSELAND 07068 SOUTH ORANGE 07079 VERONA 07044 WEST CALDWELL 07006 WEST ORANGE 07052 IR- THERMOGRAPHER INSPECTOR NJ

THEROGRAPHIC INSPECTOR NJ – HUDSON COUNTY WITH ZIP CODES IN – HUDSON COUNTY NEW JERSEY NJ – BAYONNE 07002 EAST NEWARK 07029 GUTTENBERG 07093 HARRISON 07029 HOBOKEN 07030 JERSEY CITY 07308 07306 07310 KEARNY 07032 CONDOMINIUM MULTI FAMILY NORTH BERGEN 07047 RADON DETECTION SECAUCUS 07094 UNION CITY 07087 WEEHAWKEN 07086 WEST NEW YORK 07093 SECAUCUS 07094 NEW JERSEY THERMAL IMAGING RADIANT HEAT LEAK DETECTION SERVICE INFRARED ROOF MOISTURE SURVEY

ASHI,NACHI,NJ-ALPHI,NJ ASHI, NJ NACHI LICENSED CONDOMINIUM HOME INSPECTOR NJ – PASSAIC COUNTY WITH ZIP CODES- IN PASSAIC COUNTY NEW JERSEY NJ – BLOOMINGDALE 07403 CLIFTON 07001 HALEDON 07508 HAWTHORNE 07506 LITTLE FALLS 07424 NORTH HALEDON 07508 PASSIAC 07055 PATERSON 07005 ASHI HOME INSPECTOR POMPTON LAKES 07442 PROSPECT PARK 07508 RINGWOOD 07456 TOTOWA 07512 WANAQUE 07465 WAYNE 07470 WEST MILFORD 07480 WEST PATERSON 07424 MULTI FAMILY

ASHI,NACHI,NJ-ALPHI,NJ ASHI, NJ NACHI LICENSED CONDOMINIUM HOME INSPECTOR NEW JERSEY- MORRIS COUNTY WITH ZIP CODES IN MORRIS COUNTY NEW JERSEY NJ – BOONTON TOWN 07005 BOONTON TWP 07005 BROOKSIDE 07926 BUDD LAKE 07828 BUTLER 07405 CEDAR KNOLLS 07928 CHATHAM BORO 07928 CHATHAM TWP 07928 CHESTER BORO 07930 CHESTER TWP 07930 DENVILLE 07834 DOVER 07801 07802 EAST HANOVER 07936 FLANDERS 07836 FLORHAM PARK 07932 AHERA HOME INSPECTOR NJ HANOVER TWP 07936 HARDING 07940 JEFFERSON 07438 KINNELON 07405 LAKE HOPATCONG 07849 LINCOLN PARK 07035 LONG HILL 07928 LONG VALLEY 07853 MADISON 07940 MENDHAM 07945 MINE HILL 07803 MONTVILLE 07045 MORRIS PLAINS 07950 MORRIS TWP 07960 MORRISTOWN 07960 MOUNTAIN LAKES 07046 MOUNT RADON TESTING ARLINGTON 07856 MOUNT OLIVE 07828 NETCONG 07857 PARSIPPANY 07054 TROY HILLS 07054 HOME INSPECTOR NJ PEQUANNOCK 07444 RANDOLPH 07869 RIVERDALE 07457 ROCKAWAY BORO 07866 ROCKAWAY TWP 07866 ROXBURY 07876 VICTORY GARDENS BORO 07801 WASHINGTON TWP 07853 WHARTON BORO 07885 THERMAL IMAGING RADIANT HEAT LEAK DETECTION SERVICE INFRARED ROOF MOISTURE SURVEY

LICENSED NJ HOME INSPECTOR NJ – SUSSEX COUNTY WITH ZIP CODES IN SUSSEX COUNTY NEW JERSEY ANDOVER BOROUGH 07821 AUGUSTA 07822 BARRY LAKES 07422 BEEMERVILLE 07461 BEAVER LAKE 07416 BRANCHVILLE 07826 07827 07890 BYRAM 07874 CLIFFWOOD LAKE 07460 COLESVILLE 07461 FRANKFORD 07882 FRANKLIN 07416 FREDON 07860 GERARD 07460 GLENWOOD 07418 GREEN TOWNSHIP 07860 HAMBURG 07419 HAMPTON TOWNSHIP 08827 HARDYSTON 07419 07460 HIGHLAND LAKES 07422 HIGH POINT 07461 HIGH POINT PARK 07461 HOPATCONG 07843 HOME INSPECTION INFRARED LAFAYETTE TOWNSHIP 07848 LAKE STOCKHOLM 07460 LAKE TAMARACK 07460 LAYTON 07851 LEAK DETECTION MONTAGUE 07827 NEWTON 07860 OGDENSBURG 07439 SANDYSTON 07827 SILVER LAKE 07460 SPARTA 07871 STANHOPE 07874 STILLWATER 07875 STOCKHOLM 07460 SUSSEX 07461 THERMAL IMAGING VERNON 07462 WALLKILL LAKE 07461 WALLPACK CENTER 07881 WANTAGE TOWNSHIP 07461 THERMAL IMAGING RADIANT HEAT LEAK DETECTION SERVICE INFRARED ROOF MOISTURE SURVEY

ASHI,NACHI,NJ-ALPHI,NJ ASHI, NJ NACHI LICENSED RADON TESTING SERVICE NEW JERSEY – UNION COUNTY WITH ZIP CODES IN UNION COUNTY NEW JERSEY NJ COMMERCIAL – BERKELEY HEIGHTS 07922 CLARK 07066 CRANFORD 07016 ELIZABETH 07201 FANWOOD 07023 GARWOOD 07027 HILLSIDE 07205 KENILWORTH 07033 LINDEN 07036 MOUNTAINSIDE 07092 NEW PROVIDENCE 07974 PLAINFIELD 07061 RAHWAY 07065 HOME INSPECTOR NJ ROSELLE 07203 ROSELLE PARK 07204 SCOTCH PLAINS 07076 SPRINGFIELD 07081 SUMMIT 07901 UNION 07083 WESTFIELD 07090 WINFIELD 07036 THERMAL IMAGING RADIANT HEAT LEAK DETECTION SERVICE INFRARED ROOF MOISTURE SURVEY

TRAMEX RWS KIT MRH lll FLIR T420 INFRAMETRICS PM 290 390 SC1000 MID WAVE INFRARED
INFRASPECTION Standard for Infrared Inspection of Insulated Roofs
ASTM C1153 – 10 Standard Practice for Location of Wet Insulation in Roofing Systems Using Infrared Imaging